Airport Security Force Foundation (ASFF) has launched ASF City Karachi, a smart city project, promoting smart living by offering unique smart features and facilities.
"In pursuit of our commitment to facilitate public for a high standard of living, this smart city project has been envisaged which is backed by the ASF foundation and Airport Security Force,"


Director Marketing and Operations and Acting CEO, ASFF Col. (R) Habib Khawaja, said this in a press conference held here today at a local hotel. While sharing details about the project he said ASF City Karachi covers an area of 3009 Acres. Plots will be allotted in different sizes for the convenience of citizens including 125, 250, 500 Sq. yds.
"Plots will be available at a very competitive rates and on easy installments as well. For overseas clients ASF City has planned an overseas block where their investment will be safe and secure," he added.
He said that bookings will start on 20th July and will end on 30 August 2019. It is expected that possession will be given by 2022
"We are specially focusing on making the project environment friendly with proper landscaping, lush green areas and a natural wind corridor ensures high air quality," he added.
"ASF City Karachi is the first project of its kind to introduce a mobile App for project tracking, which enables the user to track status, get latest updates through live streaming cameras at the project site," he added.
"ASF City has a state-of-the-art laboratory for testing materials thereby ensuring quality of work being done. We have engaged top of the line consultants to ensure that the concept of "SMART CITY" is being implemented" he added.
Syed Tareq Ali Sr. Dy. Dir. ASFF briefed about the Smart Systems at ASF City Karachi. He said that Project will offer Security System provided by ASF Security, 24 hours Smart Power Generation System.


The project will have its own smart water filtration system, parking and traffic control system, waste management system, and smart lifestyle facilities such as parks, gyms, sports facilities, swimming pools, clubs and restaurants. State of the art Medical Enclave & an Educational Enclave are also part of ASF City Karachi.
Mikaal Zulfiqar, Brand Ambassador for ASF City, Karachi expressed that he was excited to be a part of the campaign and looking forward to an overwhelming response for the project. It is an opportunity for investors and the people who are in search of luxurious and comfortable smart living, away from the city noise and pollution, hence we say "Smart Sooch, Smart Zindagi".
It is pertinent to mention that ASF Foundation is managed by a BOD (Board of Directors) with Secretary Aviation as its chairman; DG ASF is vice chairman of board and MD of ASF Foundation. ASF Housing Scheme is a part of ASF Foundation where all the activities of ASF are being monitored by PMU (Project Monitoring Unit).
---
Payment Plan | Full Paid Files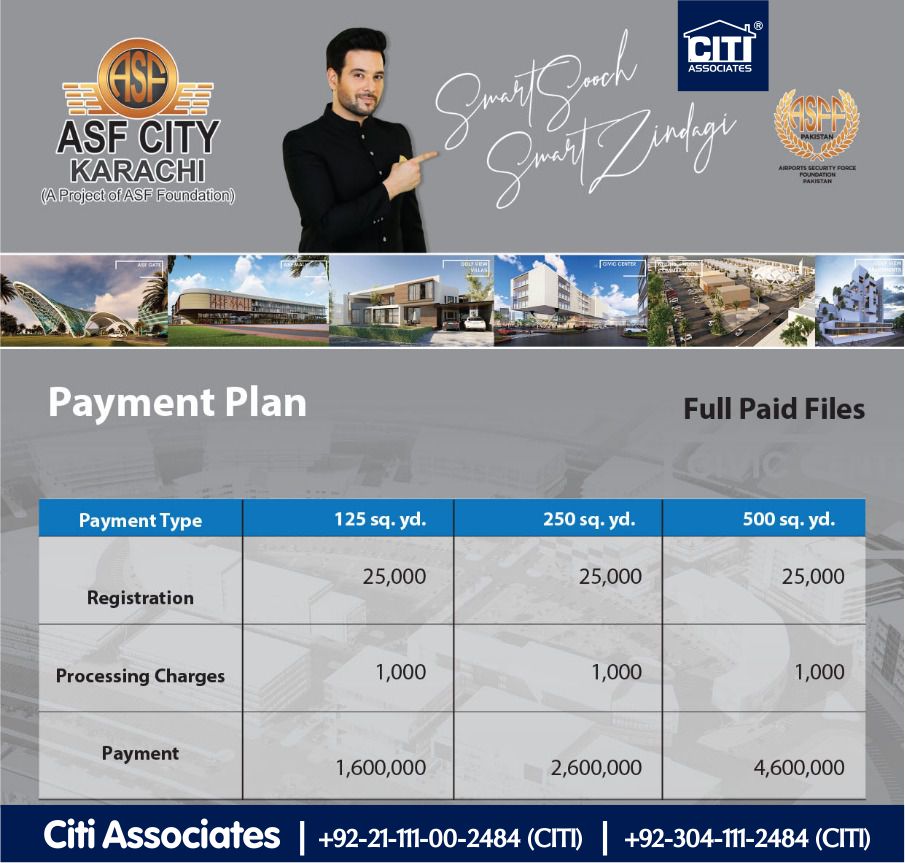 ---
Payment Plan | 1.5 Years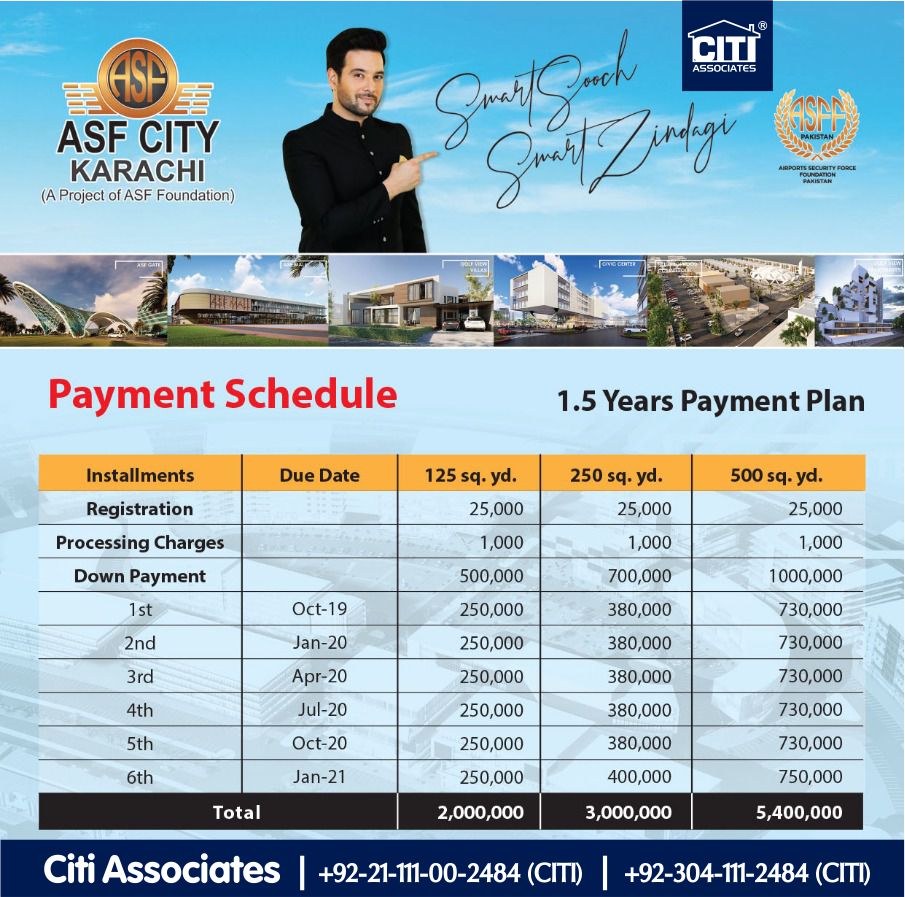 ---
Payment Plan | 3 Years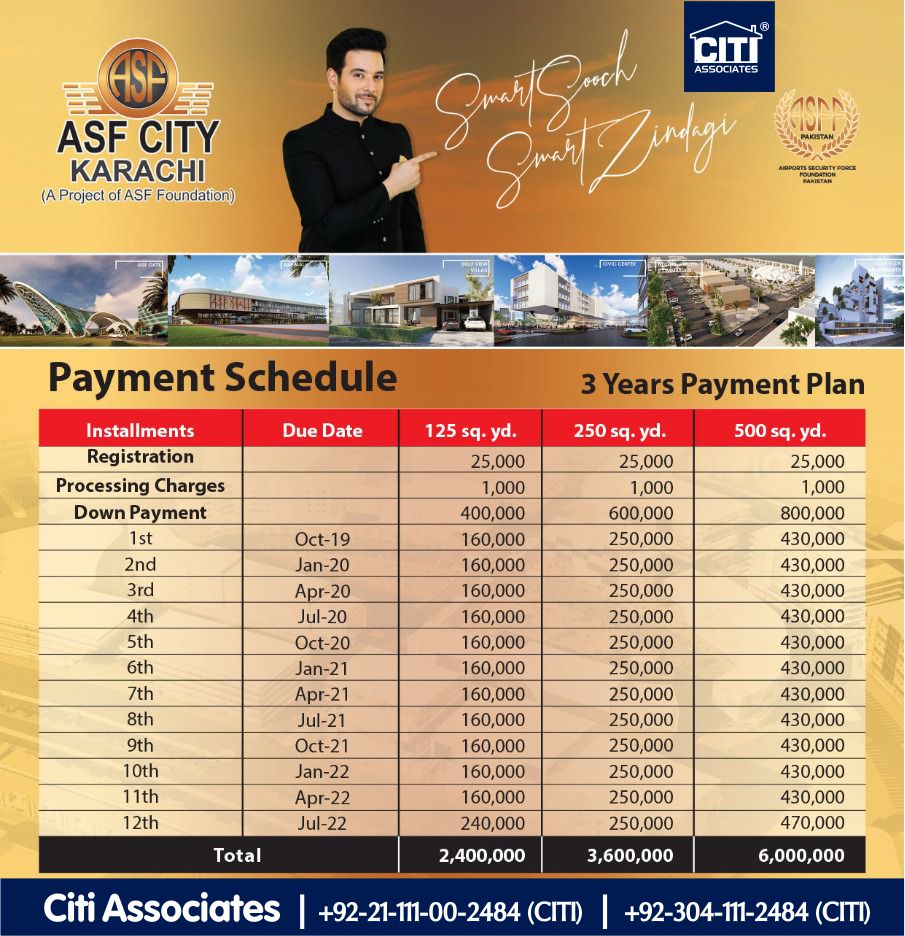 ---
Location Map
Those looking for a more ideal and facilitated living must consider ASF. It provides a very stunning and main location of Karachi. You will find this project located on Karachi-Hyderabad Motorway. The location of Plots and Bungalows is on Super Highway near DHA City Karachi. This is the most ideal location as the University road is the busiest road of the city. It is surrounded by schools, colleges, Hospitals, Parks, shopping centers, offices, restaurants and 24-hour public transportation networks.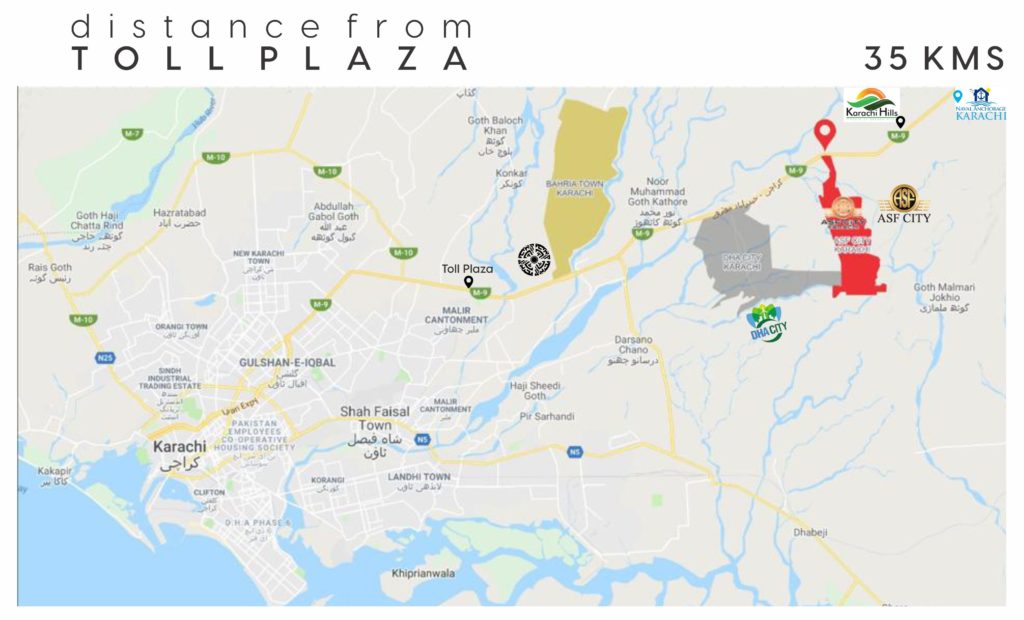 ---
ASF City Map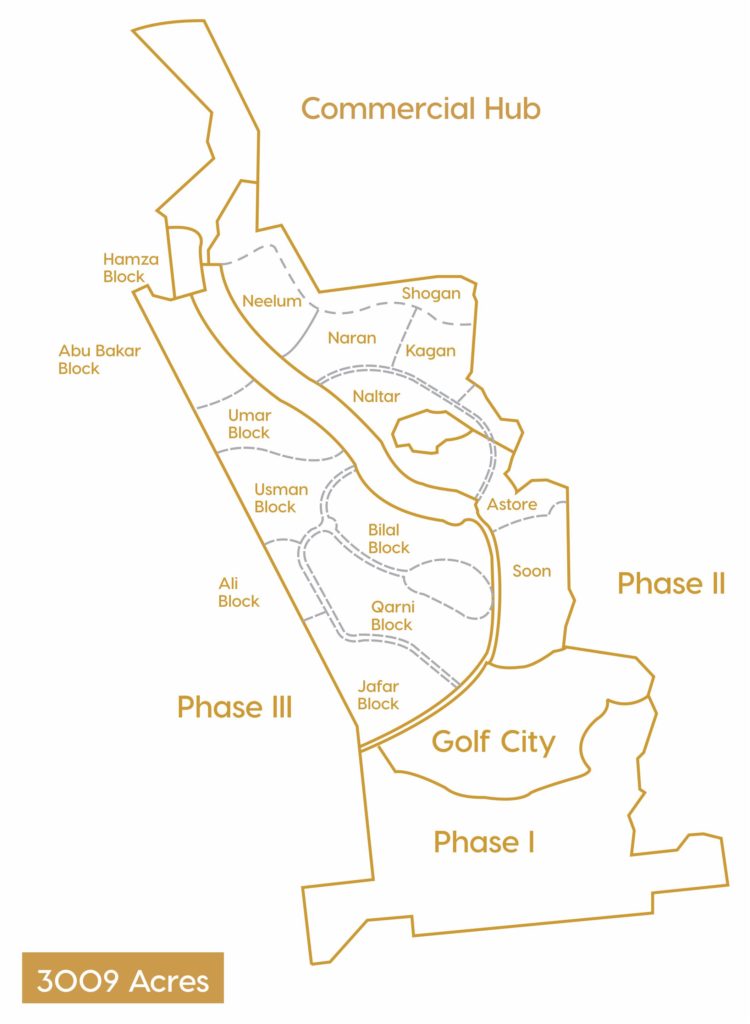 ---

Amenities
Be a part of this place in order to get all for which you have dreamed. It is a very luxurious place with full of modern amenities and luxuries. No aspect of life is left unfacilitated in order to give you a significant life. ASF provides a perfect living place with golden chances of living. Living here is very much like to live in the womb of conveniences and comforts.
From the basic needs of the residents to the luxuries and safety, this place is beneficial in every way. You will find this place more suitable and desirable to live in because of all it is offering. It is the time to surround yourself with exclusive services and modern amenities to enhance the living quality. The features and facilities are as follows:
Modern Security System
WIde-Carpeted Roads
Provision of Clean Water
Sui Gas
Electricity Availability
Parking Space
Luxurious Apartments
Well-Furnished Bungalows
Parks and Landscapes
High-quality Construction
It is a dream living place with the provision of all you need in your life. You will see the golden outcomes and luxuries you will find after being a part of this project. It offers a lot of options to you from which you can choose what suits you the most. All your living and investment cravings will be fulfilled here which is a land of possibilities. If you really want to elevate the standards of living, then there is no better choice than the ASF City Karachi.